Bordeaux Distilling Co
Workshops
Create your cocktails, Assemble your whisky or Make your whisky from A to Z
A memorable experience
Arnaud reveals the whisky manufacturing process, from fermentation to aging and distillation! You will discover the world of whisky through a tasting in 12 glasses!
You will then participate in the blending of your own whisky. Everything is a question of balance and taste of course! Follow Arnaud's advice during this step and you won't be disappointed!
You will leave with a 20 cl flask of your own blend and above all, a lot of knowledge about whisky!
Very captivating and interesting workshop, Arnaud knows how to transmit his passion and his knowledge to us, he is captivating. Creating your own whisky is a great experience, it allows us to put words and emotions on what we feel when we taste a whisky and finally be able to transcribe it into our own creation. Really to do!
"Great experience. Arnaud is a real enthusiast, his knowledge is inexhaustible on the subject. The workshop is very fun, a real good time. I recommend."
"My companion has just finished his workshop. And how to tell you that once again, he was conquered! After doing the cocktail workshop with his best friend, he is off again for a whisky blend with his father. As always Arnaud knows his job and loves to share it. And they left with their little flask of whisky all conquered. Thanks very much."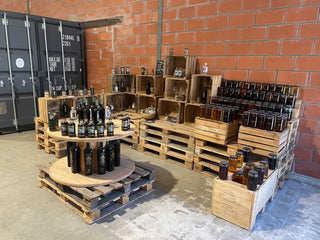 North Bacalan
Bordeaux Distilling Co
5 Dr. Schinazi Avenue
33300 Bordeaux